Water Bottle and Mini Loop Resistance Band Bundle
$

23.00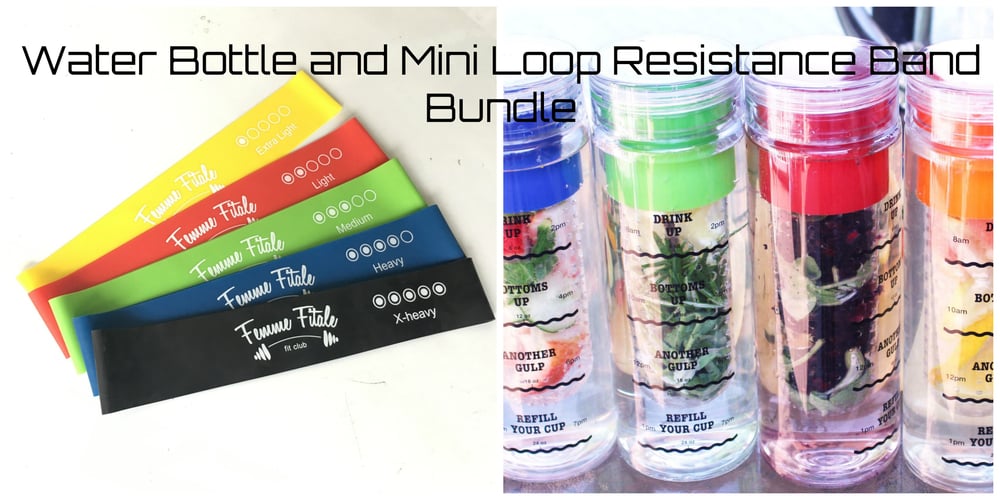 The best of both worlds is here! Obey your thirst as well as add affordable resistance to your workouts with our premium Infusion Water Bottle with Drink Tracker and mini loop resistance bands.
Premium Infusion Water Bottle with Drink Tracker:
Check out these reviews of our water bottles
Water Bottle review by Petite Heartbeat

Water Bottle review by The Sweaty Scoop

Water Bottle review by Get Fit Diva
Save time, money and the Earth with our Infusion Water Bottles with Drink Tracker. These bottles can be used over and over again as they enhance your water's flavor.
The unique drink tracker design helps prompt when and how much to drink so you know when it is time to hydrate yourself.
The added bonus, the infusion basket allows you to make natural vitamin water and keeps the pulp or tea leaves out of your water.
Product Features
Wide-mouth for easy drinking
Water level tracker to easily track when and how much to drink
Roomy infusion basket
26 oz/780ml
Fits in most cupholders
Bottle dimensions: Height - 22 cm x Diameter 7 cm
Infusion basket dimensions: Height - 15.5 cm x Diameter 4 cm
BPA & BPS free (made from Eastman Tritan plastic)
Highly durable
You can add herbs, loose leaf tea or tea sachets as well as fruit to the infusion basket to give your water an extra boost of flavor, antioxidants, vitamins and minerals.
Not made to be used in the oven or microwave. Do not overfill or use with hot liquids as it may scald user.
Can be washed in the top rack of the dishwasher but hand washing with mild dish detergent is recommended. Avoid washing with abrasive cleansers or sponges.
BUY NOW
Mini Loop Bands:
These are perfect to travel with you to work, on vacation, basically anywhere because they are lightweight, easily fit in your suit case or purse and makes getting in a workout easy.
You get a set of 5 bands, 12 inches long and nylon carry case with this set:
1 Yellow Band about 2 to 4 lbs
1 Red Band about 6 to 8 lbs
1 Green Band about 10 to 12 lbs
1 Blue Band about 15 to 20 lbs
1 Black Band about 25 to 30 lbs
Each band is marked from extra light to extra heavy so you can easily spot which band you want to use when adding additional resistance. Our bands are natural latex, durable and soft.
These hot selling "exercise bands" are very popular to target common problem areas like the hips, thighs, and glutes.
With five different levels of resistance included in each set, the Mini Loop Resistance Bands are ready to make your body and booty work.
Availability
Purple

Red

Blue

Orange

Green
Share